Seki Takumi Awards Round 2018 & The stamp card rally
Let's vote a person who can be a star of this visiting factory Day in Seki. When visiting a factory, get a stamp card and collect stamps.  You may receive a special gift by the number of stamps collected.
How to vote & receive a gift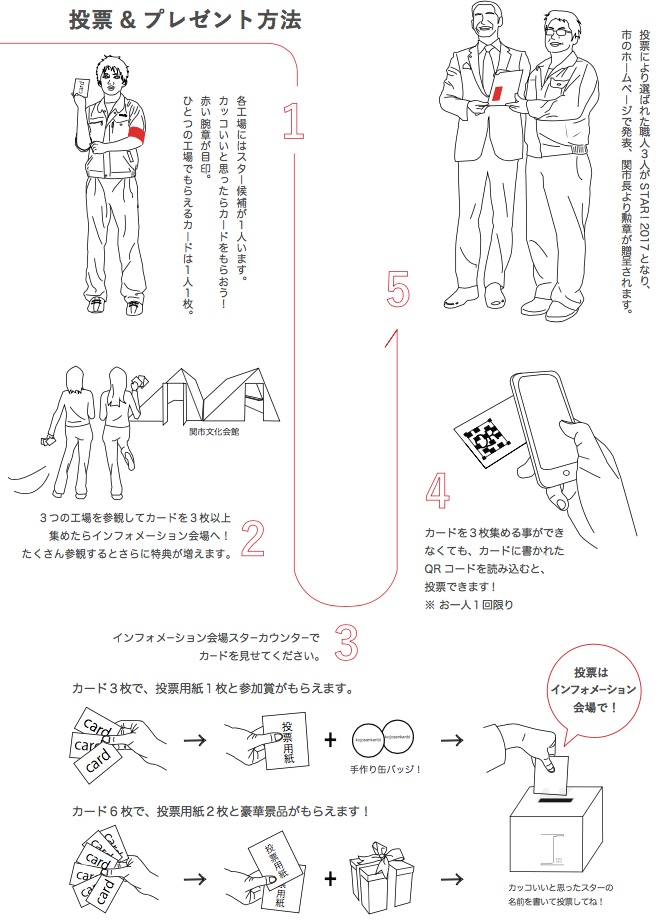 1. Each factory has ONE candidate.  Get a card when you think the candidate is cool! A red armband is the mark of a candidate. One card per person at each factory.
2. Go to the information venue after getting three or more cards.  The more you visit, the more prizes you may get.
3. Show the cards at the STAR! Counter at Information venue.  Exchange 3 cards for voting paper and a participation prize.
4. Don't worry even if you cannot collect 3 cards.  You can vote from your smartphone by reading a QR code. *One vote by QR code per person.
5. The top three craftsmen who received votes will be the STAR! 2017 and will be announced on the website.  The mayor of Seki city will give them the award.
Note
A card per person at each factory
The staff at the factory will give you a card in case the start candidate is on his work
Three different cards from three different factories allow you to vote once. (You can vote for many times as long as you collect three different cards.)
A lottery per family
The vote box is located at Information venue
You need only one card if you vote with a QR code